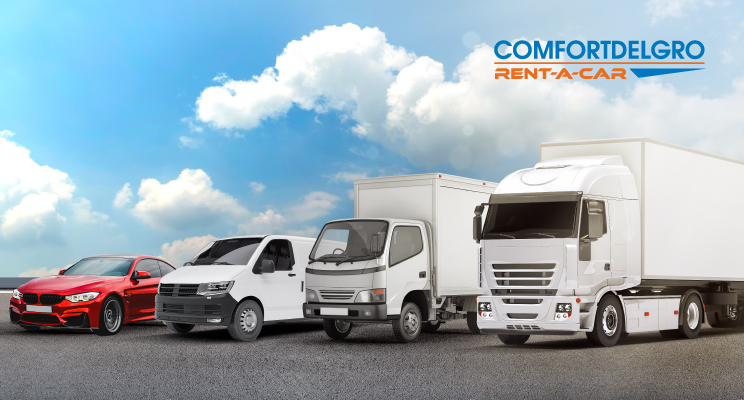 Are you a business owner or Human Resource personnel seeking transport services for your organisation? Or are perhaps an expat or local looking for long-term car rental packages?  
Well, read on to learn more about ComfortDelGro's array of services that you can tap on, from car rentals to bus chartering and more.
Car and Commercial Vehicle Rentals by ComfortDelGro Rent-A-Car
1. Long-Term and Short-Term Car Rental
Is your company in need of cars for day-to-day employee or business usage? Or are you an expat that's looking for a convenient way to get to and from work?
Skip the commitment and effort needed which comes with buying a car, as well as costly Certificate of Entitlement (COE) and maintenance fees, by renting from us instead.
Depending on your needs, check out our wide variety of categories available, from sedans and Sports Utility Vehicles (SUVs), to Multi Purpose Vehicles (MPVs) and even luxury!
If you have any worries about the condition of our cars, there is no need to fret. They undergo multiple preventive maintenance checks every year, and we routinely change the tires, batteries, wipers, floor mats, and other necessary car parts.
2. Commercial Vehicle Rental
Need to find a way to deliver or transport your business goods? Check out our range of commercial vans and trucks here!
Fun fact: We're also a Lalamove Vehicle Rental Partner!
If you're thinking of becoming a delivery driver with Lalamove, but don't possess your own vehicle, consider renting with us and enjoy exclusive rates and perks! For more information, contact us here.
Other Transport Services Offered by ComfortDelGro
Aside from car and vehicle rental, ComfortDelGro also offers other transport-related services. 
1. Private Bus Chartering
Does your company have any retreats or events that requires transport that can ferry more people? Consider chartering a bus!
Pick from our fully air-conditioned 10, 19 or 40-seaters, with the option of a one-way, two-way, or hourly trip – fill up our online booking form and get a quotation from us instantly!
No matter what your businesses or day-to-day needs are, we've got you covered. Check out our various services today!