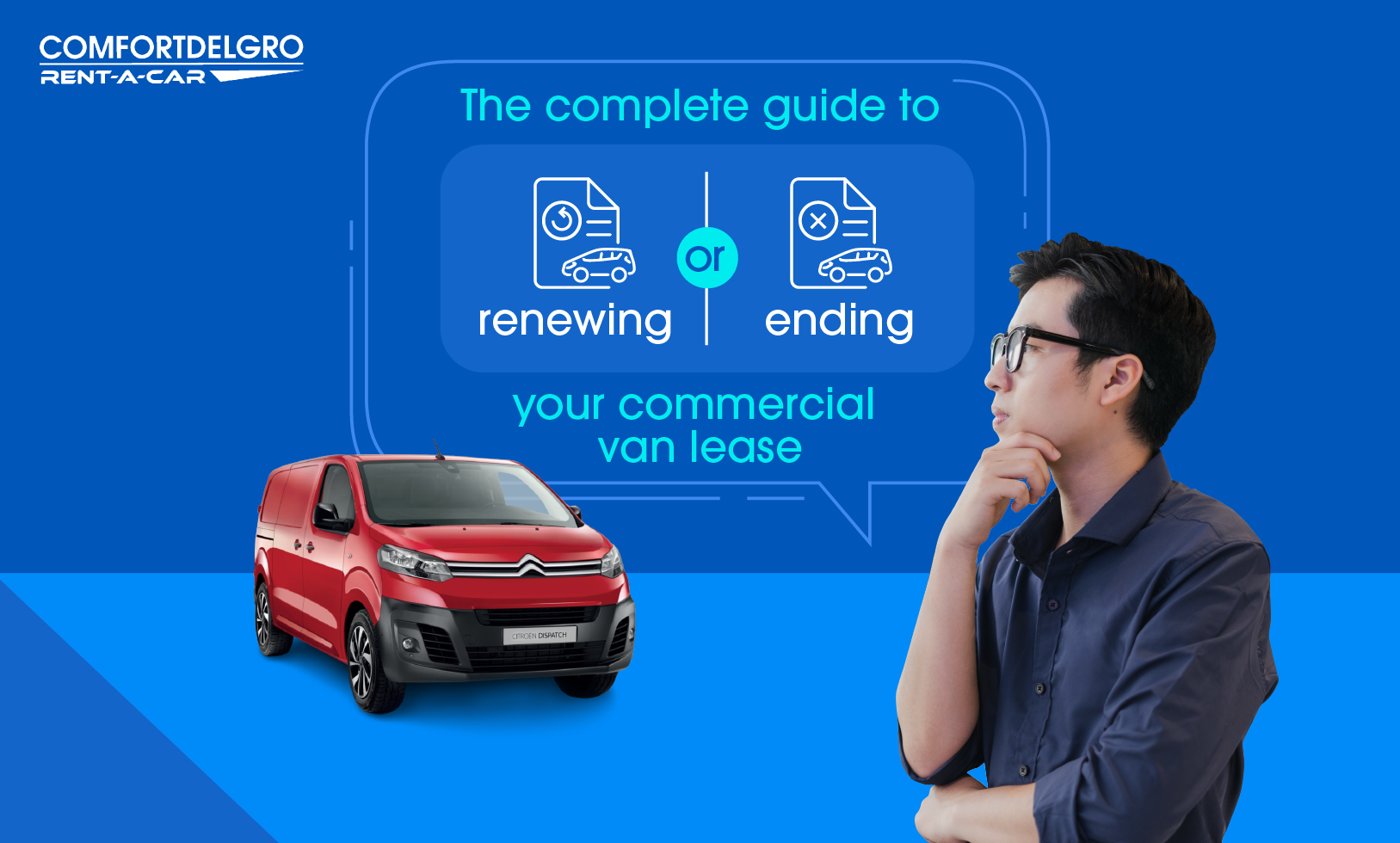 Your commercial van lease is ending soon. What are the processes or things that you should take note of if you want to (1) renew the lease, or (2) end it?
While processes may vary from rental company to rental company, this article will provide you with the general steps should you wish to renew or terminate a commercial van lease in Singapore.
Renewal of Lease
If you are interested to extend your current lease, here's what you can expect during the renewal process.
Step 1: Sales person will check in on your interest to renew
Depending on your rental company, a sales person is likely to follow up with you via phone or other channels to check if you are keen to renew before the contract ends. In the event no one approaches you regarding the renewal, you can always inform the Company of your intent to renew.
Step 2: Receive renewal quotation
You should receive a new quotation for your renewal before your lease expires. Don't assume that the rental will be the same as the current lease! You can still change your mind if you the renewal quotation exceeds your budget.
Step 3: Sign the renewal contract
Once you have decided to renew, you can now sign the contract.
Step 4: Check the vehicle if you're changing it
If you are not renting the same van, check the new vehicle and feel free to ask the staff any questions or concerns you may have before you collect the keys.
Step 5: Collect the keys
If you are satisfied with the new van, collect the keys and you are good to go!
Ending the lease
If you do not wish to renew your lease when it ends, here are the general steps you can expect when returning the van.
Step 1: Returning the vehicle
You can arrange either drop-off appointment with your rental company or a staff pick-up. There may be additional charges for a pick-up, so be sure to check with the rental company.
Step 2: Pay outstanding fees, if any
Once the vehicle has been inspected, settle any outstanding fees, such as rental fees, fuel charges, and liability insurance.
Step 3: Collect refundable deposit, if any
If your lease included a refundable deposit, be sure to collect it back when you return the van.
Step 4: Sign vehicle return form
To prevent any disputes in the future, make sure to document the van return process by signing the official vehicle return form after confirming all the details.
Step 5: Return the keys
Return the keys to the rental company, and you are done!
More about ComfortDelGro Rent-A-Car
ComfortDelGro Rent-A-Car provides long-term rental services for commercial vehicles, including vans, trucks and prime movers, to meet different business needs. We have been around since the 1980s, and are a member of ComfortDelGro Corporation Limited – one of the largest land transport companies in the world.