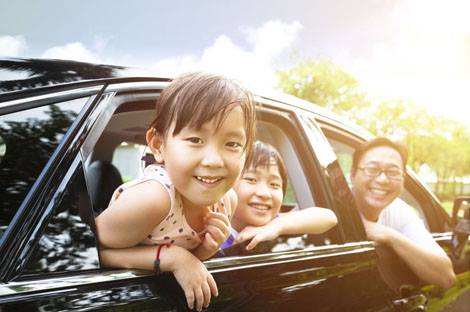 Have you and the family recently moved to Singapore, and are still figuring out what to do for leisure?
Well, don't be fooled by the size of our concrete jungle because there are tons of beaches, parks, local attractions and more to explore; read on for ideas on where to go for your next outing!
1. The Beach
We know how much energy kids have, and the beach is the perfect way to let them run around as much as they want.
Sentosa is THE go-to spot for many locals to get their fix of vitamin D, with three beaches to pick from; Tanjong Beach, Palawan Beach and Siloso Beach. And when you and the family are done with frolicking on the sand, why not cool off with inflatable aqua obstacles, go indoor sky-diving, kart-racing and more?
Plus, with the tons of bars and restaurants available, you won't have to worry about your kids getting hangry.
There are also heartland beaches like Changi Beach Park or East Coast Park, where you can book barbeque pits, kayak, cycle, or catch sight of different wildlife species.
2. The Park
Another way to have fun while keeping active is to explore our many parks!
Some family-friendly ones with play areas include Admiralty Park, Pasir Ris Park, Jacob Ballas Children's Garden and Jurong Lake Gardens.
You can also consider checking out the relatively new Rifle Range Nature Park which was unveiled a few months ago, or explore the Bukit Timah Railway Station which re-opened in July last year.
3. Indoor Playgrounds
When the weather doesn't allow for outdoor fun, indoor playgrounds make for a great alternative.
Are your little ones thrill-seekers? Then they'll love tackling the high element obstacle courses at Nerf Action Xperience, X-scap8, or Adventure HQ!
For less-scary-but-still-fun options, hit up the slides, ball pits and bouncy zones at Kids Amaze, T-Play or SuperPark.
There's also Dinoland to check out, if your kids are fans of the majestic prehistoric creatures.
4. Local Attractions
Another fun way for your kids to learn about the animals is by taking a trip to Mandai Wildlife Reserve, which houses parks like the Singapore Zoo, Night Safari and River Wonders! There's also the chance to get up close with various species through feeding sessions and trainer-animal presentations!
If you prefer a cooler retreat away from the perpetual Singapore summer, you can consider visiting Wild Wild Wet or Snow City.
A must-visit is also Universal Studios Singapore, with its popular 3D Transformers-themed ride, 360 degrees Battlestar Galactica rollercoaster, and more.
5. Staycations
If you're looking for an easy way to have a holiday without actually leaving Singapore, there are always staycations!
Relax amidst nature at Lloyd's Inn and Resorts World Sentosa's Equarius TreeTop Lofts, or check out the infinity pools that overlook the city at Marina Bay Sands, Andaz and Parkroyal Collection.
For an experience on the wild side, there's also outdoor staycation experience at the Singapore Zoo!
Getting Around Singapore With ease
Moving from place to place with kids in tow is no easy feat, and we know how tiring it can be for the whole family after a long day of activities.
If you don't already own a car, we're here to save you the hassle of travelling around on public transport!
Check out our daily/short-term car rental schemes if you're planning a weekend out, or go for our long-term rental option if you need a way to ferry the little ones around on a day-to-day basis.
We have an extensive selection of different car brands and models, and you can be assured they are kept in tip-top condition.
Interested to rent a car from us? Visit our website here.